Celebrating Five Years of Edera!
Published on July 7, 2023
A look back on five years of innovating, giving back, and making a difference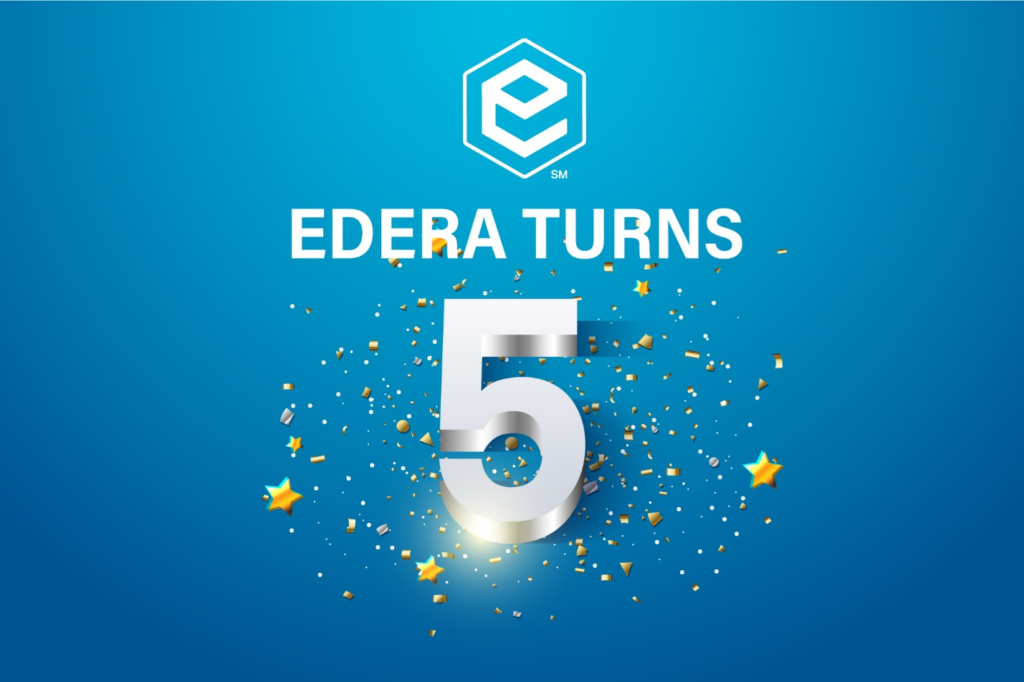 It's time to celebrate! 2023 marks our fifth anniversary… five exciting years of Edera. Five years of operating on the leading edge of technology, giving back to our communities, and making a difference in the lives of others with innovative health care solutions.
Since our inception in 2018, our mission has been to help organizations build better businesses and effect positive change in the communities where we live and work. We have worked hard to give back through multiple initiatives, including Trusted Medical, which brings elevated care to Veterans and service members in previously underserved areas, and GiveBackRx, a prescription drug discount program that donates to charity partners. We also became a Historically Underutilized Business Zone (HUBZone)-certified small business to help fuel growth in the historically underutilized business zones we serve and fostered a culture of giving through our Community Involvement Committee.
None of this would be possible without our incredible team! Our story is truly about people — the best and brightest — who excel under pressure and consistently rise to the occasion. The Edera team is capable of great things because we meet challenges together; our pragmatic approach to problem-solving and eagerness to learn new skills enable us to do good for our clients and for our communities.
Our not-so-humble beginnings
Edera was founded in 2018, when Dr. Kevin Carr collaborated with visionaries from Yale University, the Center for Medical Interoperability (C4MI) in Nashville, Tennessee, the not-for-profit Inova Health System in Falls Church, Virginia, and The Harold P. Freeman Patient Navigation Institute in New York City. The U.S. Department of Veterans Affairs (VA) had issued a request for information (RFI) for electronic health record (EHR) implementation, and Dr. Carr's team was selected as the top performer for that RFI against other bigger companies.
From Day One, Edera has enjoyed tremendous success serving our clients and has formed lasting partnerships with many heavy hitters in our industry. We've worked hard to support many projects across the federal and commercial sectors and have been at the forefront of building strategies for some of the top technology vendors in the country.
Other companies are often impressed by our primary differentiator: our talent. Since the beginning, our mantra has been that individuals can maximize their positive effect on the health care industry when they work together on large transformations within an enterprise or across enterprises. Edera's initial staff came together almost overnight thanks to the referrals of our experts and a solid level of understanding, talent, and the desire to give back. As we grow, our teams continue to be demographically diverse, with experience across many industries and fields. Our staff's dedication, diversity, consistent and constant ardor for excellence, and depth of experience are what set us apart.
Where we are today
Our thriving full-time team has expanded tremendously, and we have a vast network of Industry Best Practice Advisors (IBPAs) across 39 states that continues to grow by the day.
In April 2020, KLAS Research reviewed our capabilities and found that no other U.S. firm has successfully executed on the unique strategy of combining industry experts with full-time creative, technology, and management consulting resources and created a culture attractive to both full-time staff and part-time advisors. This is only possible through the amalgamation of the incredible talent and unmatched perseverance of our teams.
Being part of Edera is more than just a job. As a low-profit limited liability company (L3C), one of our foundational guiding principles is purpose before profit, meaning profits are prioritized to support network sustainability and fund "public good" initiatives. As part of our commitment to giving back, Edera sponsors volunteering events and gives each employee eight hours of paid time off (PTO) annually to volunteer for a local charity or civic organization of their choosing.
Asked if he could have foreseen the future of Edera — the level of success, talent, and growth — Dr. Carr says he usually dodges the question. He wants to remain humble about the company's success but admits he knew Edera would thrive from the beginning.
According to a Forbes Advisor article, one in five businesses fails within the first year, highlighting how pivotal the first five years are. We're proud to have made it this far and can't wait to see what the future holds!
A look ahead
The next five years will be a time of sensational growth, as we continue to:
Expand our offerings and our expertise, increasing our presence in the health care space and beyond
Harness our collective excellence to provide differentiators, such as our cross-industry best practices and technology accelerators, pairing our people-powered solutions with our bespoke technology offerings
Grow our creative consulting and communication services, not only continuing to help our clients communicate complex data and information in understandable visuals and narratives but also greatly expanding our offerings to help our clients cut through the noisy communications landscape
Extend our reach further into the commercial sector by solving the health care industry's constant and enduring challenges, such as health equity, care coordination, and effective community care
Develop and refine support products to enhance the client experience and serve as the basis for future tools and repeatable processes
Invest in our greatest asset — our people — and our culture through ongoing efforts to upskill our teams and maintain delivery quality
Every member of the Edera team is central to operationalizing our strategic goals. Each employee brings unique, critical skills to our operation. With tenacity and intention, we will achieve our strategic plan.
Let's celebrate!
As we look ahead to Edera's next five years, we are most excited about our ongoing development. We will continue to innovate, and we will continue to grow.
We also will continue to celebrate this major five-year milestone. Keep an eye out for special social media posts as our team helps us mark this momentous occasion throughout the remainder of 2023.
These past five years have been a blast, and we can't wait to see what the next five have in store!